Meet the Team
"Our mission is to provide the finest real estate service in the Comox Valley based on the highest standard of ethics, values and client care. In doing so, we know that we will continue to earn the loyalty and trust of home sellers and home buyers who will become our life long clients and friends. We will always place our clients' best interest first."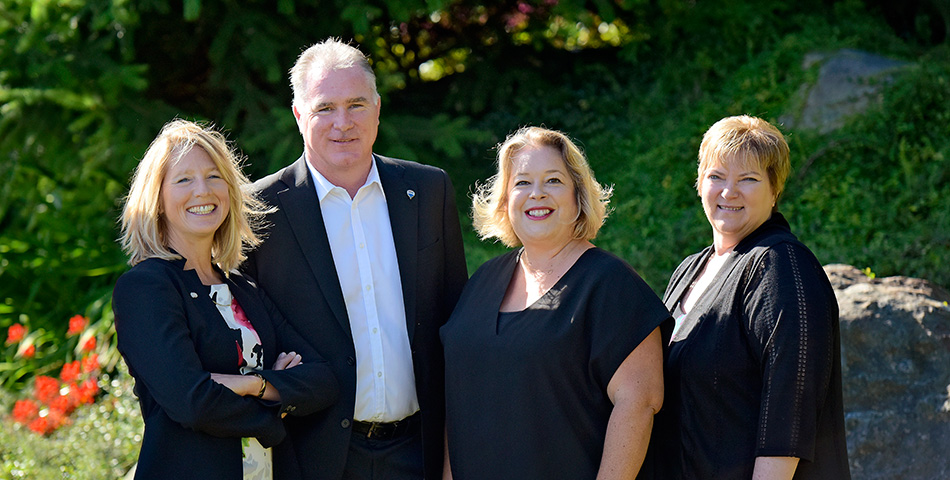 For Michele Courtney, what's really important is the satisfaction she gets from making a difference in her clients' lives. "It's not about transactions," she says, "it's about relationships. When I'm working with a client, helping them to buy or sell a home, I have their best interests at heart. How could I not strive to do my best for them?"
Michele was born and raised on the coast, but it was in B.C.'s Cariboo region that she began her real estate career in 2005. While looking for a hobby farm that was perfect for her own family, Michele's broker was so struck by her energy thoroughness and ability to negotiate he finally convinced the former teacher to give real estate a try.

"Eventually I agreed, and then I fell in love with it," she recalls. "I think it's because, like teaching, I get to interact with people every day, and I can draw upon my abilities to communicate, empathize and create understanding."
Those qualities helped Michele win the "Rookie of the Year" Award from her company and achieve the title of top salesperson for the next four years. Since moving back to the island life and joining the RE/MAX Ocean Pacific Realty team in 2010, she has continually been a top performer, achieving top levels of sales achievement and distinctions along the way.

Michele has earned a reputation for working tirelessly to make each client's experience a positive one, and going the extra mile to alleviate stress. Michele trained for and achieved the designation of Seniors Real Estate Specialist®. "Moving from the family home to something smaller can be a very emotional time, and there are a lot of questions from the clients and their children," explains Michele. "It's my job to help them through this big change in a supportive, professional and compassionate way."
As a member of Brookfield Global Relocation Service Providers, Michele often works with military and RCMP families whose timelines are often very tight for finding a home or selling it within their allotted time frame for door to door moves. Michele works closely with these sellers and buyers, as she does with all her clients, and handles their timeline challenges with skill.
Michele Courtney understands home & heart are a powerful connection. She puts her own heart into finding just the right connection for her clients.
Michele and her partner Dr. Patrick Johnson love everything about the Comox Valley; the people, the community, the natural beauty and all the outdoor recreation that the valley has to offer. They are grateful to be able to live and work here and enjoy outdoor family time with their daughters Emma, Georgia and Savannah.
---
Whether you're buying or selling residential property, investing in a condo, or you're in the market for commercial property, clear communication is at the core of all great customer service. Really listening to the real estate goals of my clients and making those goals a priority is how I bring home buyers and sellers together and help people get the best value for their real estate investment.

Retired from a 25 year career in the Canadian Air Force, I'm familiar with the unique opportunities and challenges of relocation with timelines that don't always coincide with optimal real estate market conditions. I know the challenges of making important home buying decisions from a distance and have helped many military families at 19 Wing Comox make a smooth transition whether they were moving to or from the Comox Valley.

I've also been involved in community leadership as a Councillor for the City of Courtenay as well as a Comox valley Regional District Director. I also served as the Vice Chair of the Comox Valley Chamber of Commerce. This experience has provided me with comprehensive understanding of the local real estate market, the local economic drivers, as well as the land use and zoning bylaws that influence commercial and residential property values in the Comox Valley.
As an active volunteer, I'm currently a board member of the Sid William's Society and and a Director of the Central Vancouver Island Boys & Girls Club. As a Minor Hockey Official, a board member for the Glacier Greens Golf Club, and Foundation Chair of the Comox Rotary Club, I've had the opportunity to work with many different members of the community.

My wife Chris and I have lived in the Comox Valley since 1990 and were drawn to the beauty and diversity of what the area had to offer. After several relocation experiences, this is the community we chose to raise our daughter Stephanie, and continue to enjoy with our grandsons Chase and Cole.
---
Raised in the Comox Valley, Carla comes from a local real estate family and brings her buyers and sellers in-depth local knowledge. An interest in interior design, coupled with having previously built a number of homes (and lived through a few renovations) enables Carla to offer her clients additional knowledge - whether it's how to visualize a home after renovations, or how to present it for a more favorable sale. Her background is in the hospitality sales & operations industry, and a transition to the real estate industry seemed a natural one. "I love working with people and sharing the exciting experience of finding them their perfect property. It's such an important phase in their lives and I feel privileged to help them navigate the challenges of the transaction".
Carla and her husband have a young son, and they try to enjoy all the outdoor activities and events the Comox Valley has to offer. "We are always interested in the local events and fairs, and on the lookout for new hiking trails to explore. We try to recognize, appreciate, and really enjoy the natural beauty that is right at our doorstep!"
---
Vicky Freer, Office Manager
Vicky has worked for Michele for over 3 years and is now enjoying her role as Office Manager for the Courtney&Anglin Real Estate Group. Vicky is organized, efficient & very personable. She runs the office with precision and dedication and is always ready to assist our clients in any way she can. If ever you cannot reach any one of us directly, Vicky is always available to answer questions or provide the information that you need as soon as possible. We feel very grateful to have her working on our team and we know all our clients are too!